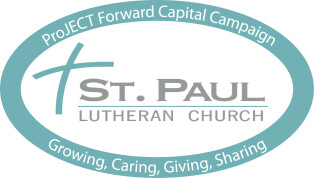 St. Paul is alive in God's Spirit! We are an enthusiastic community that welcomes all to Christ. We SHARE our faith and resources; we CARE for others through our prayers, outreach programs, and worship; we GIVE with our time, offerings, and talents; we are GROWING. Because our active membership is growing along with our desire to serve our community, we are proposing to move forward in new and meaningful ways. Not even COVID-19 can stop the generosity of the congregation as we continue to move forward in this capital campaign to renovate our building and ministries together. Get the latest information about the ProJECT in the brochure.
The original brochure with the drawings can be found here.
Please find your role in ProJECT Forward and submit your commitment to the ProJECT by September 30, 2020.
You can use the online commitment card or print this commitment form to submit your pledge.
Did you miss the congregational meeting on August 16? View the slides from that meeting and the video of the meeting is here.
Testimonials
View testimonial videos from our Core Team members.
Doreen Fritz
Gay Nass
Mark Freedlund