Your Input is Needed about our Preliminary Building Plans and Proposed Capital Campaign!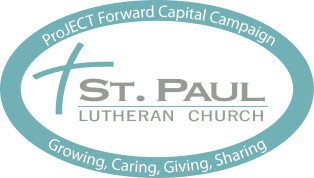 St. Paul is alive in God's Spirit! We are an enthusiastic community that welcomes all to Christ. We SHARE our faith and resources; we CARE for others through our prayers, outreach programs, and worship; we GIVE with our time, offerings, and talents; we are GROWING. Because our active membership is growing along with our desire to serve our community, we are proposing to move forward in new and meaningful ways. Teams have been actively engaging the congregation in many different ways to determine the needs of our present and future ministries. We see opportunities for continued growth in our ministry moving forward, through further expansion of our staff as well as updates and improvements to our facilities.
Please respond to the survey found at the end of this ProJECT Forward brochure. You can drop off the survey in a box in the cafe or foyer, mail it to the church, or quickly respond to the online survey here. It is important that we hear from you by November 15. Thank you for your input as we prepare for the future.